Get your aprons ready… things are about to get messy in this award-winning multiplayer VR game from Resolution Games!
Release Date: Apr 20, 2021 (Steam), Sept 3, 2020 (Quest)
Developer/Publisher:  Resolution Games
Supported Headsets: HTC Vive, Valve Index, Oculus Rift, Quest w/Link, Oculus Quest, Meta Quest 2
Supported Controllers: Tracked motion Controllers
Oculus/Meta Cross-Buy: Yes
Game Modes: Single Player, Online Co-op Multiplayer
Release Status: Full release
Demo Available: No
Locomotion options: Roomscale (Stand/Sit in one location)
Turning options: Front-facing
Roomscale: Yes
Sitting: Yes Standing: Yes
Left Handed option: N/A – use either hand
Comfort options: None
Avatar: Only Hands
Gear/Inventory: None or N/A (On the counter/fridge in front of you)
Health Display Location: None or N/A (Customer's have patience bars next to them)
In-Game Tutorial: Yes
Physical Activity level:  Moderate – Extreme
Play length: 
Number of Levels: 
Difficulty Options:  None
Mod Support: No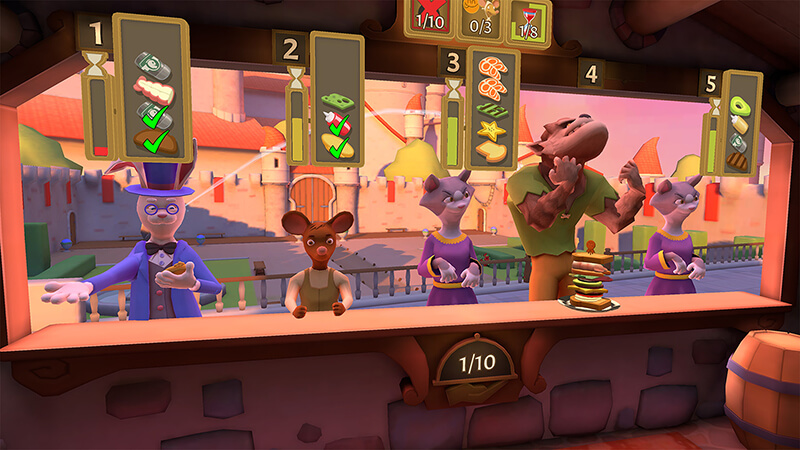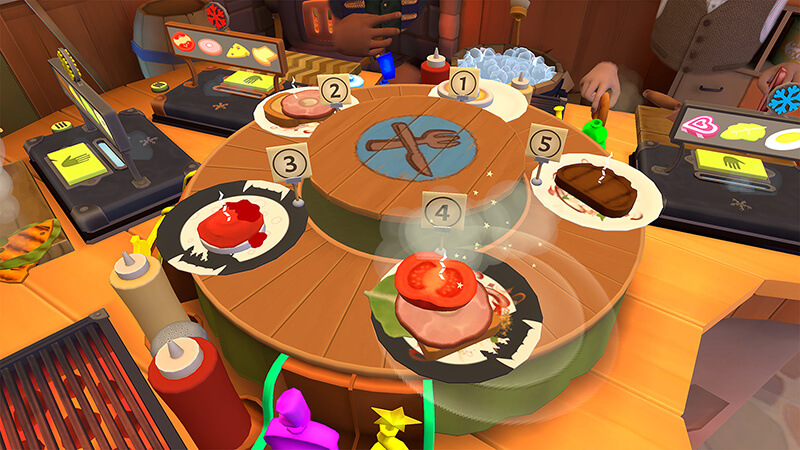 If you have any questions or confusion about the information provided, please see the below link.
Overall rating
The best multiplayer focused VR cooking game I have played. ***** At the time of this review, I had completed the single player campaign and played some levels in multiplayer. *****
Starts out pretty simple but quickly ramps up to chaotic craziness

Multi-player is where this game really shines, but can still be played and enjoyed in single player

Different animal customers have different patience levels and order requirements

Good length campaign
Had some difficultly taking items off the plate and re-arranging them in the correct order

Bot helper in solo mode is sometimes a bit dumb/unhelpful
Menu Options Screenshots: (Taken from in-game)
NOTES
Information last verified/updated: April 21, 2021
Information, menu images and review based on the Steam version of the game. There may be slight differences between platforms.
Not up to date? Submit a request here and we will review our information with the current version of the game.